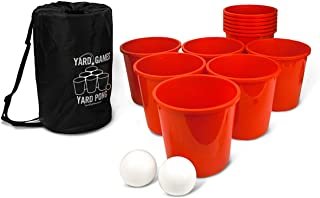 Yard Pong




$20.00

Click Add To Cart For More Info



Introducing Yard Pong - the ultimate outdoor party game that will take your gatherings to the next level! Whether you're hosting a backyard barbecue, a tailgate party, or just enjoying a sunny day with friends and family, Yard Pong is a must-have addition to your entertainment arsenal.
Yard Pong is a giant-sized version of the classic beer pong game, designed specifically for outdoor play. The set includes 12 durable plastic cups and 2 heavy-duty plastic balls, all perfectly sized for outdoor fun. The cups are made to withstand even the wildest throws and bounces, ensuring endless hours of entertainment.
Setting up Yard Pong is a breeze. Simply arrange the cups in a triangle formation at each end of a table or any flat surface, and you're ready to go. The objective is to throw the balls into the opposing team's cups, forcing them to drink the contents. The team that eliminates all of the opponent's cups first wins the game!
What sets Yard Pong apart from other outdoor games is its versatility. You can customize the rules to fit your preferences, making it suitable for players of all ages and skill levels. Whether you prefer a casual game with friends or a competitive tournament, Yard Pong can be adapted to suit any occasion.
Not only is Yard Pong incredibly fun, but it also promotes social interaction and friendly competition. It's a fantastic icebreaker at parties and a great way to bring people together. Plus, it's an excellent alternative to traditional outdoor games like cornhole or ladder toss, adding a unique twist to your gatherings.
Made from high-quality materials, Yard Pong is built to last. The cups and balls are resistant to wear and tear, ensuring countless games of fun and excitement. The set is also easy to clean and store, making it convenient for transportation and long-term use.
So, what are you waiting for? Upgrade your outdoor entertainment with Yard Pong and create unforgettable memories with your friends and family. Whether you're a seasoned beer pong pro or a beginner looking for a good time, Yard Pong is the ultimate game for outdoor fun. Get ready to make every gathering a hit with Yard Pong!