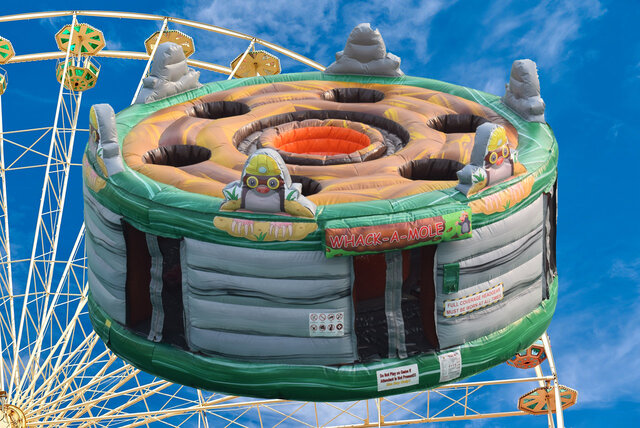 Human Whack A Mole
Actual Size: 14' L x 14' W x 7' H
Setup Area: 18' L x 18' W x 10' H
Outlets: 1
Age Group: 3 And Up
Attendants: 1





$149.00

Click Add To Cart For More Info



Introducing the exhilarating and interactive game of Human Whack A Mole! Get ready to experience the ultimate fun-filled challenge that will keep players of all ages entertained for hours on end.
Human Whack A Mole takes the classic arcade game to a whole new level. Imagine stepping into a life-sized game where you become the whacker and your friends or family members become the mischievous moles. It's a game of speed, agility, and strategy that will test your reflexes and keep you on your toes.
The objective is simple: use your quick reflexes to whack the moles as they pop up from their holes. But be careful, as the moles will try to dodge your strikes and stay out of reach. The game is designed to challenge your hand-eye coordination and reaction time, making it perfect for parties, team-building events, or just a fun day out with friends.
Human Whack A Mole is not only a thrilling game but also a fantastic workout. As you chase the moles around, you'll be burning calories and getting your heart rate up, making it a great option for those looking to stay active while having a blast.
This game is suitable for both indoor and outdoor settings, making it versatile for various venues and occasions. Whether you're hosting a birthday party, a company event, or a family gathering, Human Whack A Mole is guaranteed to be a hit among your guests.
Safety is a top priority, and Human Whack A Mole is designed with that in mind. The game features soft, padded moles and a gentle striking mechanism, ensuring that players can have a safe and enjoyable experience without any risk of injury.
So, if you're looking to add a unique and exciting element to your next event, look no further than Human Whack A Mole. It's a game that brings people together, creates unforgettable memories, and guarantees endless laughter and fun. Get ready to unleash your inner whacker and become the ultimate champion of Human Whack A Mole!