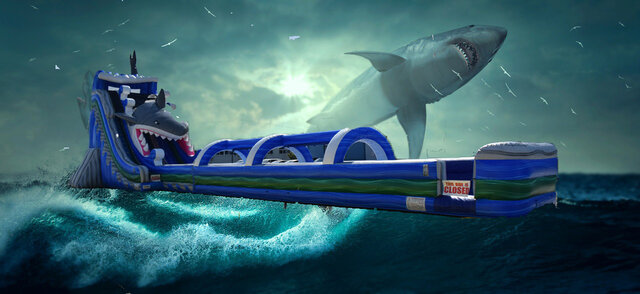 32Ft Dual Lane Megalodon Water Slide
Actual Size: 84' L x 24' W x 32' H
Setup Area: 90' L x 35' W x 35' H
Outlets: 3 40 AMPS Total
Age Group: Min 34"
Attendants: 1





$599.00

Typically drop-off day before and pickup day after



Introducing the thrilling and massive 32Ft Dual Lane Megalodon Water Slide! Get ready for an adrenaline-pumping aquatic adventure that will leave you breathless and wanting more.
This jaw-dropping water slide stands at an impressive 32 feet tall, making it the centerpiece of any event or water park. With its dual lanes, you can race your friends and family side by side, adding an element of friendly competition to your water-filled escapades.
Constructed with top-of-the-line materials, safety is our utmost priority. The Megalodon Water Slide features high guardrails, ensuring that riders stay secure as they plunge down the steep slope. The slide is also equipped with a soft pool at the bottom, providing a safe and comfortable landing for all thrill-seekers.
But it's not just the height and safety features that make this water slide a must-have. The Megalodon Water Slide boasts vibrant and eye-catching graphics, creating an immersive and exciting atmosphere for riders of all ages. Its marine-themed design, inspired by the legendary prehistoric shark, will transport you to an underwater world filled with adventure and excitement.
Perfect for parties, events, or even just a day of fun in the sun, this water slide guarantees hours of entertainment for everyone. Whether you're hosting a birthday celebration, a corporate gathering, or simply looking to beat the heat, the 32Ft Dual Lane Megalodon Water Slide is sure to make a splash and create lasting memories.
So, don't miss out on the ultimate water slide experience. Get ready to conquer the waves, race your friends, and unleash your inner daredevil with the 32Ft Dual Lane Megalodon Water Slide. Dive into the excitement today!