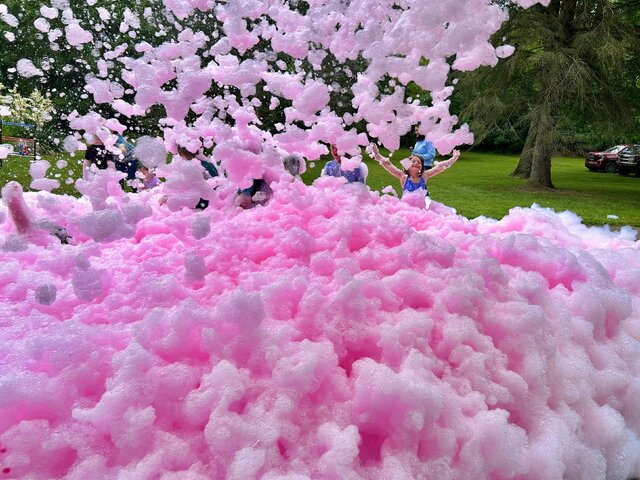 2 Hour Foam Color Party
Outlets: 2 20AMPS Total
Age Group: Any





$399.00

Please call for availability.

Get ready to experience the ultimate foam party with our 2 Hour Continuous Foam Color Party! This exhilarating event is perfect for any occasion, whether it's a birthday celebration, a corporate team-building activity, or just a fun day out with friends.
During the 2-hour duration of the party, you and your guests will be immersed in a sea of vibrant, non-toxic foam. Our state-of-the-art foam machines will continuously generate a thick layer of foam, creating a lively and energetic atmosphere that will leave everyone smiling and laughing.
But that's not all - our foam is not just any ordinary foam. It is specially formulated to be safe for both adults and children, ensuring that everyone can fully enjoy the party without any worries. The foam is also infused with vibrant colors, adding an extra level of excitement to the experience. As you dance and play in the foam, you'll be surrounded by a kaleidoscope of hues, turning the party into a visual spectacle.
Safety is our top priority, and we ensure that all necessary precautions are taken to make the event secure. Our experienced staff will be on hand to supervise the foam party, ensuring that everyone is having a great time while staying safe. We also provide protective goggles for all participants to protect their eyes from the foam.
So, if you're looking for a unique and exciting way to celebrate, our 2 Hour Continuous Foam Color Party is the perfect choice. Book now and get ready to immerse yourself in a world of foam, music, and vibrant colors that will leave you with memories to last a lifetime.